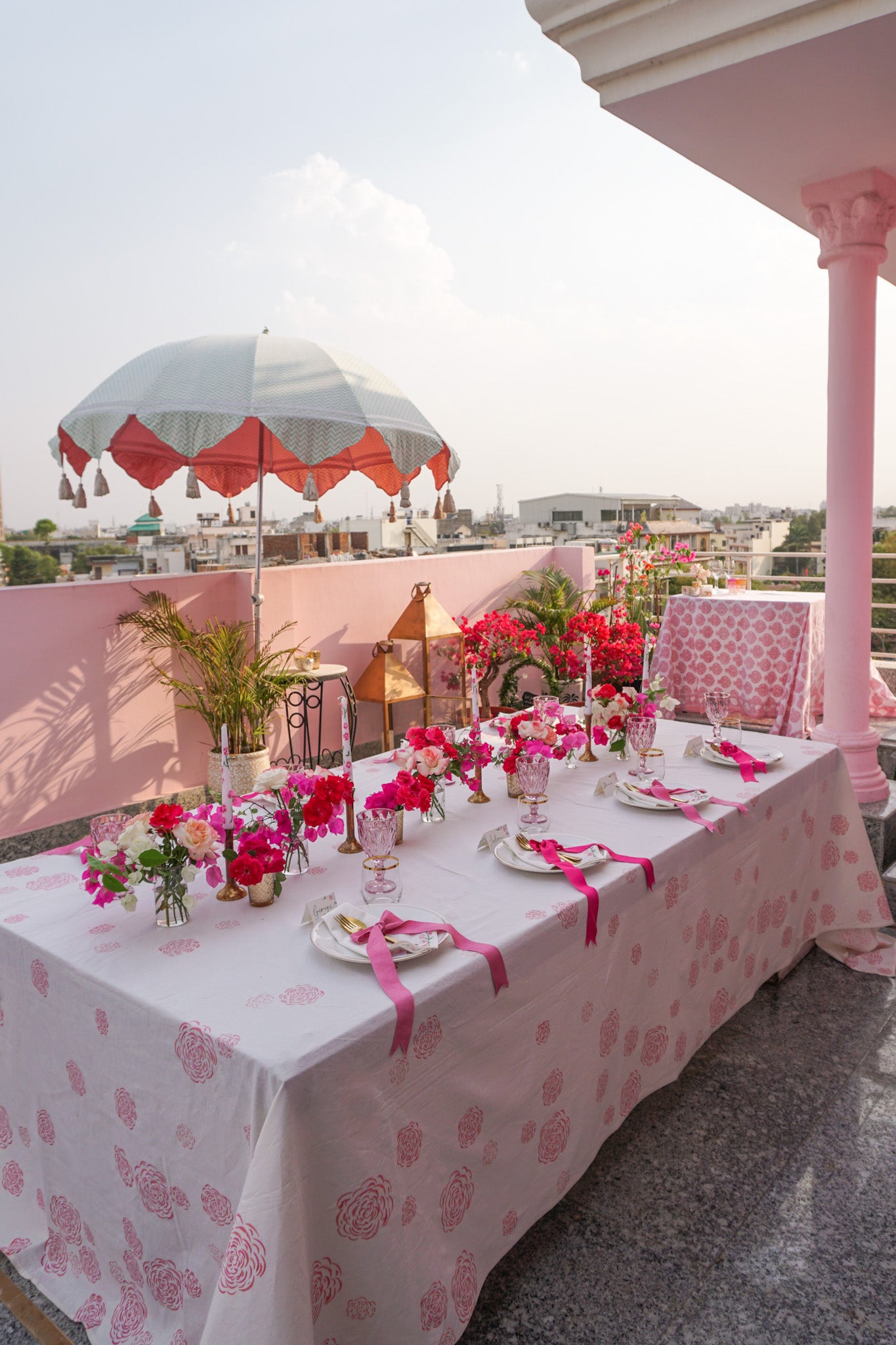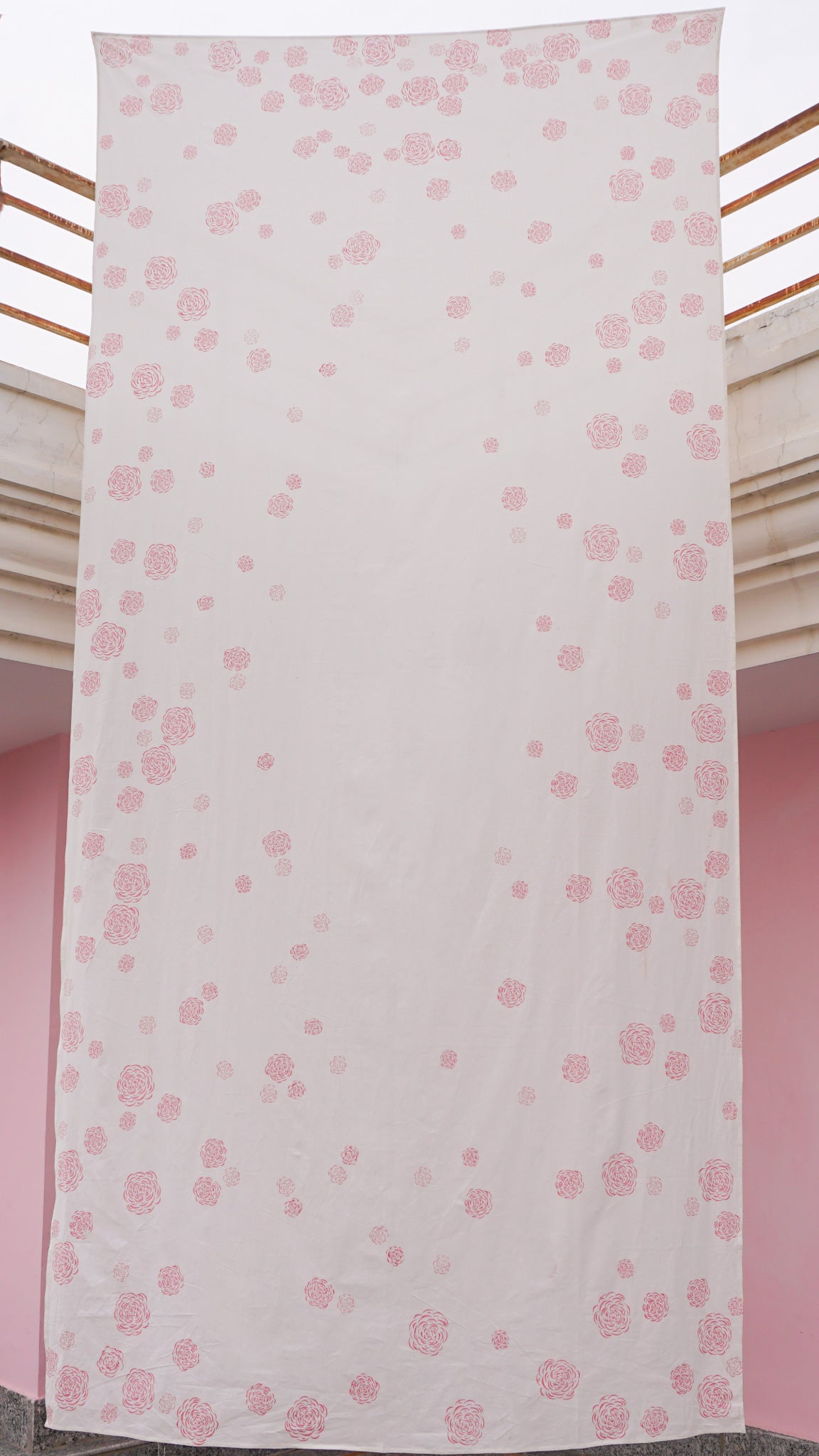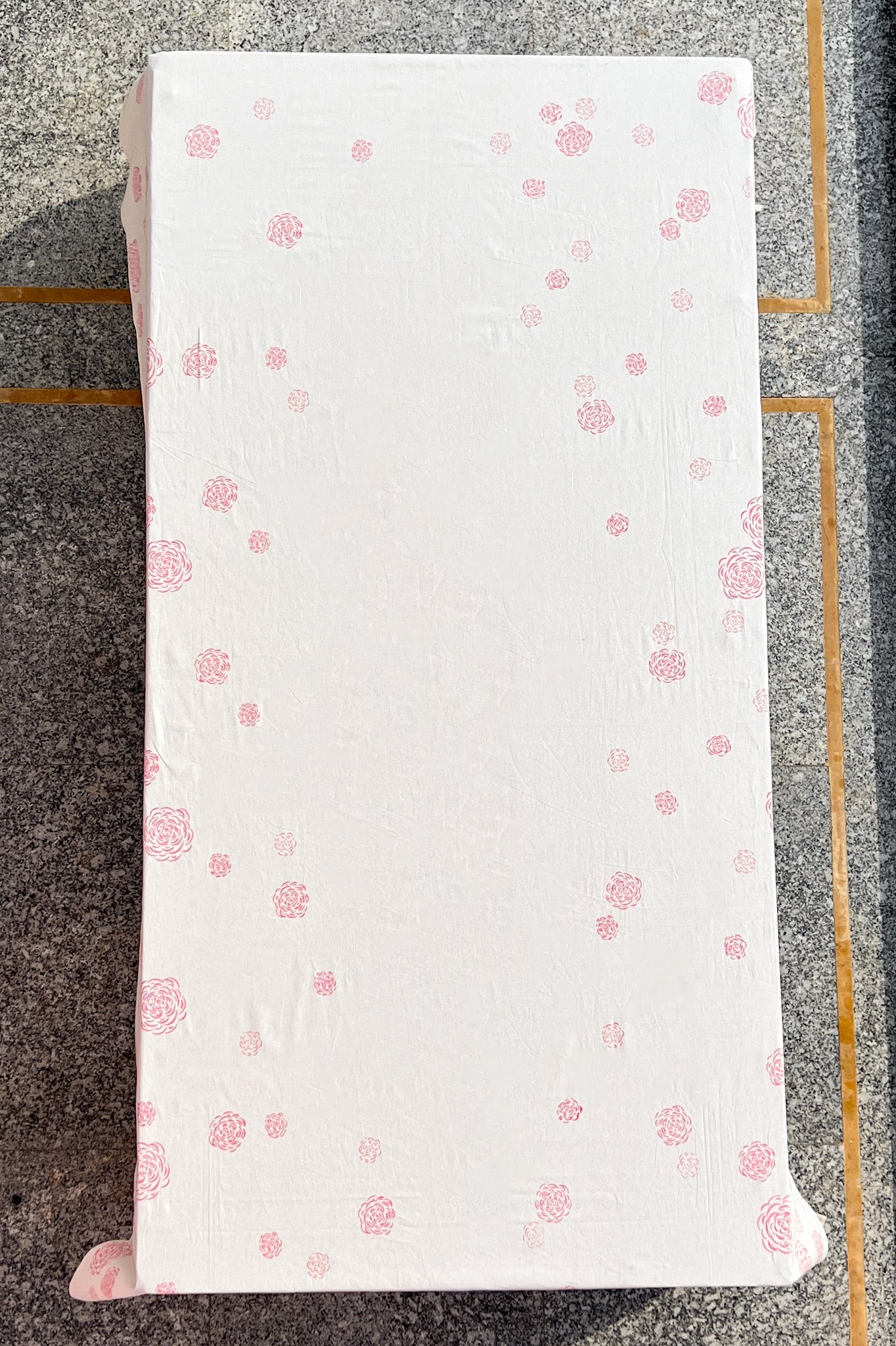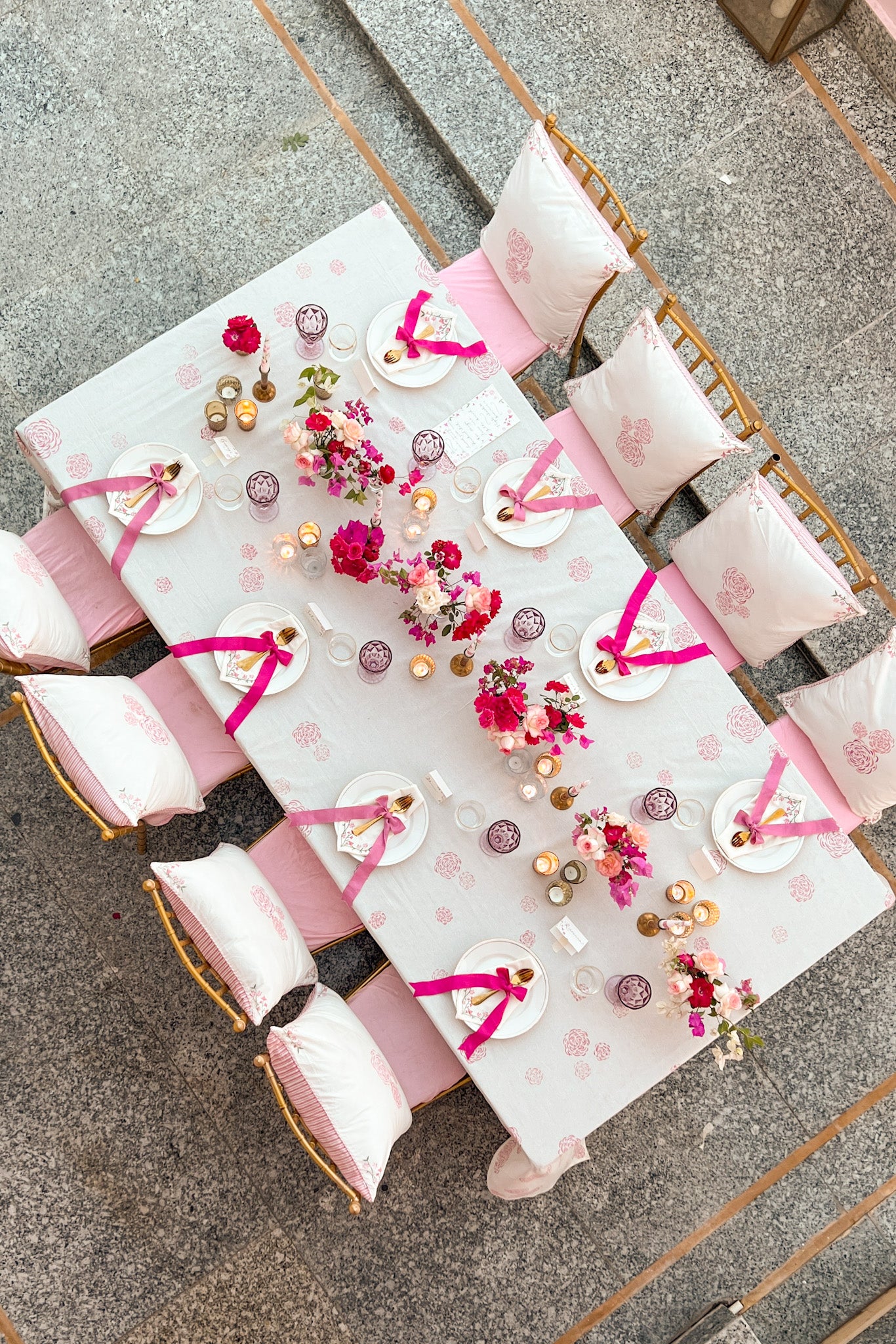 Description

Care

Composition
Garden roses fall across this tablecloth in a style reminiscent of Rosanna's wedding dress. This design began with Rosanna's drawing of a rose. It was then carved into a wooden block and stamped onto cotton. Block prints are usually regular and symmetrical in design but this tablecloth is unique with a naturalistic layout of flowers placed at random. Rosanna spent many happy hours with the highly skilled blockprinters getting the scattered roses just so!

Tablecloths are shipped in specially printed rose drawstring bags made from excess fabric. 
Due to this piece's print layout, no two tablecloths are the same.

Pictured: 
180cm x 350cm

Sold in three sizes:
170cm x 270cm
180cm x 350cm (please email us for waiting list requests for this size)
220cm diameter round
Machine wash cold on a gentle cycle. Do not bleach. For air drying, please avoid direct sunlight. To tumble drying, please use a low heat. The product can be ironed on a low setting and dry cleaned. Full care guidelines here.
---
Shipping
UK Shipping
We offer express delivery (next business day) and standard delivery (2-3 business days). Orders placed after 2pm will be fulfilled on the next business day. Any orders placed over the weekend or during public bank holidays will be processed on the next working day. All shipping is via Royal Mail.
Packaging
Orders are wrapped by hand in recycled tissue paper. Tablecloths are shipped in specially printed rose drawstring bags made from excess fabric. Larger packages are sent in boxes while smaller packages (e.g. napkins) are sent in secure envelopes. All packaging is made from recycled paper and stamped by hand with Rosanna's drawing of a rose.
International Shipping
Delivery is estimated 4-10 business days depending on location. International orders may be subject to import duties and taxes. The customer will be responsible for payment of any such import duties and taxes. We do not have control over these charges and cannot predict their amount. Read more
Returns
Do you offer returns?
Items should be returned unused and in their original packaging within 14 days of purchase. To avoid unnecessary use of paper, we do not enclose returns forms; all returns should be requested via email. The cost of returning any item is at the customer's own expense. Read More

How long does a return take?
Once we receive your package, we will issue a refund promptly for the items. Your refund will be credited to the same card used to make the original purchase. Please allow 10 business days to ensure that your refund is credited. You will be notified via email when your return package is received and your refund or credit has been processed. Read More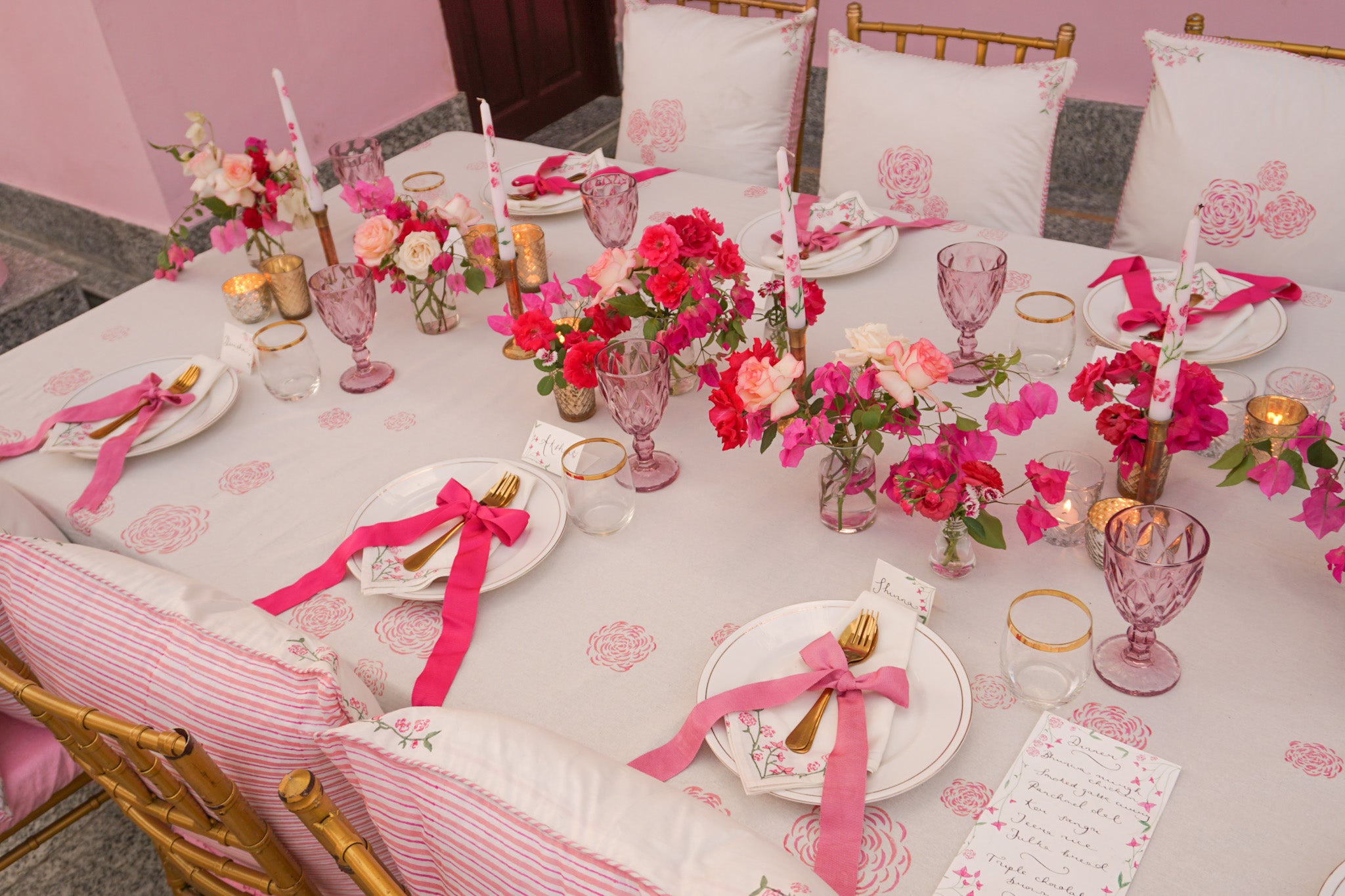 Journal
Set The Table
Rosanna shares her tips and ideas for styling her first collection - from floristry to folding the napkins.
Journal
Making Of
From the first drawing of a petal to the final packaging, this collection has been a labour of love.